Initiative during Earthquake
We have successfully completed our works in two villages on the outskirts of Kathmandu valley: GhumarChowk and Lakuri Bhanjyang. By working alongside the government sector health system, HAPSA aimed to develop an effective model of community-centric health care that can in then inform national health policy.
Project Ghumarchowk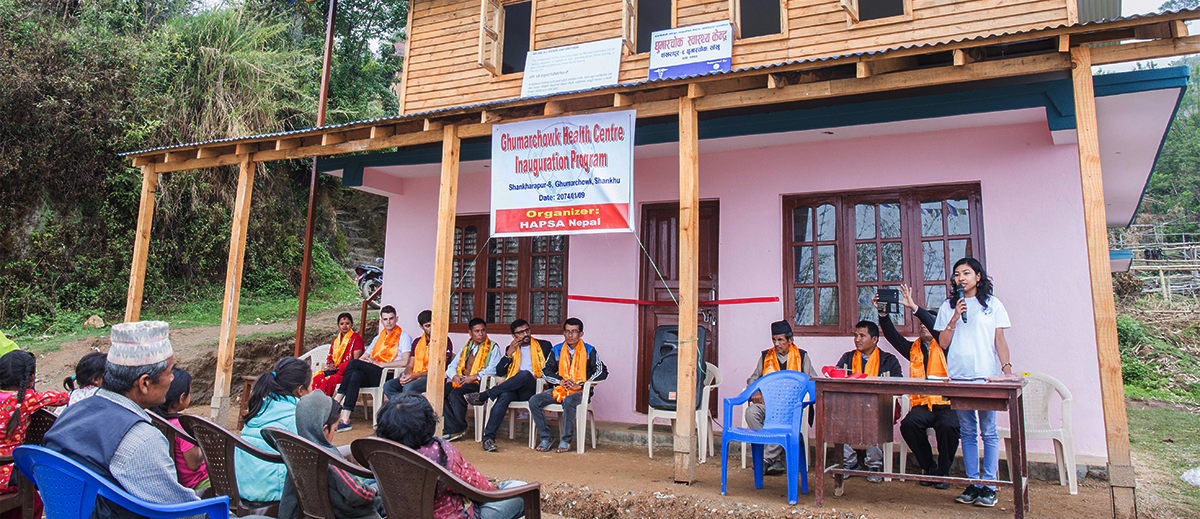 In GhumarChowk, the existing health post is too far for the villagers and utilization has been low because of this. Focus groups in this village strongly reflected the need of a closer health facility. The Rotary Club had sponsored a clinic for a long time in this village, but stopped doing so because they ran out of funds. Furthermore, this facility was destroyed in the earthquake. The villagers and the HAC of this village proposed a plan of turning an existing community building into a HAPSA-run clinic. The municipality has also donated some of their funds for transforming this building into a clinic. We coordinated with the health post and conducted a needs assessment with the villager to prioritize services. We hired two Health Assistants from the village for the health post. Management of chronic illnesses and awareness surrounding alcohol use has been also the focus of this center. We worked closely with the HAC to conduct regular needs assessments and understand demand. We collaborated with the Australia based local NGO "From the Ground Up" to add one storey in the community centre building which has been used for the health centre. The impact this health center has made in the community is over whelming. Now it has been handed over to Shankarapur Municipality, and it has been taking care of overall management from January 2021.
Project Lakuri Bhanjyang

After the earthquake, we used some of the funds to build a temporary health post in Lakuri Bhanjyang, Lalitpur. Following our meeting with the District Public Health Officer (DPHO) of Lalitpur, the health post workers, and the HAC, we decided to create partnership there that would be unique. We signed a memorandum of understanding (MOU) with the DPHO Lalitpur that allows HAPSA to help the government strengthen its already existing services and add additional ones as well. The DPHO allowed the HAC and the HAPSA team to oversee the management of the health post. We organized eye clinic in the health centre and provided free cataract surgery to 7 villagers in partnership with Tilganga Eye Hospital. We also organized extended health camps and directly served around 500 people.
---
---
Main Objectives
The main objectives is to create partnerships to deliver quality and context appropriate health services in GhumarChowk and Lakuri Bhanjyang by:

Forming a Health Advancement Committee (HAC) at the villages with the participation of local leaders, VDC secretary, local teachers, police, women's group, and youth.
Aligning the interest of government to provide "health for all" with community needs, and act as a mediator of health advancement.
Increase health awareness through dissemination of health education and information programs by:

Mobilizing students, local schools, local youth and international volunteers for awareness programs, using the community centric health center as a focal point for these activities.
Identifying specific gaps in health information and education in respective communities through HAPSA and HACs. These findings will be presented to the health service providers to cater to the community needs.

Work closely with government bodies and policymakers to share our findings and successes/failures by:

Keeping this model in the context of Nepal as a whole and consult/inform key policy makers about our findings.
If successful, we will push for a policy level change that supports community centric health care delivery.
Since the earthquake on April 25, 2015, HAPSA's focus became seeking to strengthen local health systems to provide health services based on the demand. Different pilot interventions were designed for each of these communities, which we describe as our "three-way partnership" With the support of individual donors, HAPSA raised more than $20,000 to work towards the health advancement of GhumarChowk and a similar village, Lamatar. These villages are predominantly settled by Tamangs: communities that have been marginalized and oppressed in Nepal for decades.
---
Initiative to fight against COVID19
Since COVID-19 pandemic from April 2020, HAPSA has been creating public health education material, conducting training webinars, FAQs, live Q&As, availability of volunteer doctors for tele help, among other things. Dedicated trained medical officers were allocated to answer the queries regarding COVID19 as people had lots of confusion during the 1st wave. We received many queries through calls, Viber, WhatsApp and Messenger. HAPSA has always worked on public health education from hand washing to COVID-19 training.
---
Public Awareness Campaign
HAPSA published various awareness contents through its Facebook page. We started awareness campaign once it started its transmission in Europe and US, prior to the spreading in Nepal. A comprehensive video about Coronavirus (Virus Nature, symptoms and safety measures) was published in our social media platform.

We published video content on 20 sec. hand washing technique, how to wear Mask and how to use gloves.
Similarly, we posted FAQs so that users would get in hand information on COVID19.
---
Interactive session with Rural Municipality representatives
HAPSA organized a Facebook LIVE session with doctors, local representatives that involves ward president, mayor and local health assistants to know the intervention that government is taking in local level. LIVE question answer was conducted to clear the confusion of the people from rural area in the interactive session. They could ask question in the comment and message section to their local representative and doctors directly.
Shankharapur Municipality Ward no. 9 president, Health Assistant from HAPSA supported Health center, Doctors from HAPSA team participated in the interactive Facebook Live session.
Gulmi Musikot Municipality Mayor, Government Health Assistant, Female Health Community Volunteer, and Doctor from HAPSA team participated in the interactive Facebook LIVE session.
---
Interactive session with Frontline health workers
HAPSA invited frontline medical nurses to share their experiences working in the COVID intervention at their respective hospitals. They had to work long hours with limited resources in their workplace and additional they have to face discrimination in the society due to people false understanding that they could transmit the virus from the hospital to their society. HAPSA raises its voice against the discrimination and clear the misconception through its awareness sessions.
Nurses from Teaching Hospital and Civil Hospital were invited in separate interactive session.
All the interactive sessions was led by HAPSA founder Dr. Ramu Kharel and was coordinated by HAPSA Nepal President, Pankaj Bhattarai.
---
COVID second Wave in Nepal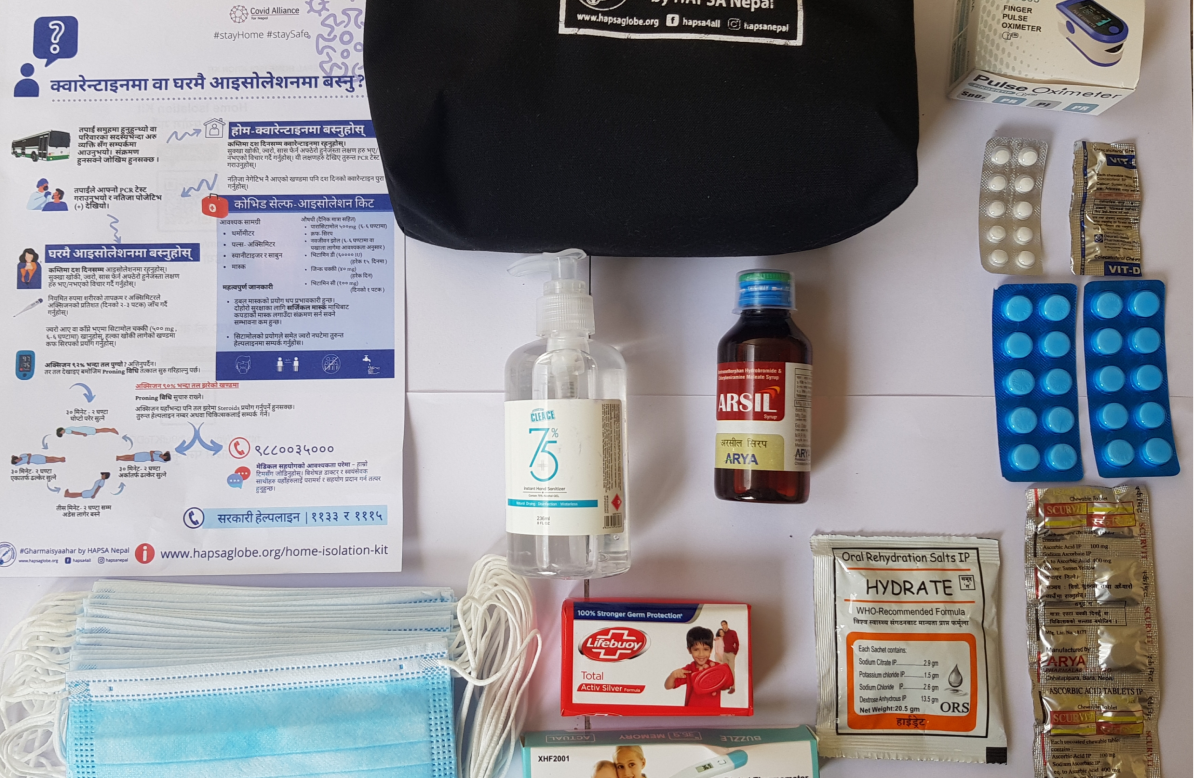 Nepal is in the brink of humanitarian crises, with the worst viral transmission rate in the world. Per capita, Nepal is now worse than India in COVID-19 crises. Medical infrastructure and the health system are collapsing.
During the second wave in Nepal, HAPSA Nepal has been active on multiple fronts. HAPSA Nepal has created a database of volunteer nurses and doctors that are accessible to local governments and isolation centers. HAPSA Nepal has also partnered with other local and international organizations to conduct countrywide training in COVID -19 clinical concepts. HAPSA Nepal team has also helped create home isolation kits. As part of COVID Alliance Nepal, HAPSA have been directly involved in advising government entities in creation of protocols/blueprint for isolation centers, and treatment protocols for patients.
HAPSA Nepal along with COVID Alliance Nepal worked in building a home isolation kit for the municipality of Dhangadhi (one the the most hard hit areas in Nepal). Given its utility, we want to expand the kit's use across the country.
Female Community Health Volunteers (FCHV) Training
This project seeks to train Nepal's female community health volunteers to help post-COVID community health concerns, especially focusing on long COVID and mental health complications. The training also provides information on vaccines, vaccine communication, and preparation for future outbreaks with infection prevention and control measures at the community level. The project initially focused on Bagmati Province where the burden of COVID-19 infections is the highest, and will likely have a high burden of post-COVID complications.
FCHVs reported gaps in knowledge of basic COVID 19 concepts including guidelines for home care and reasons to seek higher levels of care. Survey showed gaps in knowledge on indication and contra-indications for vaccines. Majority of FCHVs demonstrated willingness to be trained and to participate in local COVID 19 efforts if they are well trained. FCHVs can be instrumental in public health fight in post-COVID world. For this, proper training to equip them is vital. This Program seeks to do exactly that.
Training has been conducted in Dang, Khotang, Achham, Gulmi, Sindupalchowk, Dolakha and Kavrepalanchowk serving more than 700 FCHVs.